For the Desktop version, we use a 'Membership' or 'Base Registration' concept, whereby we charge a base registration fee.  

The base registration fee, and subsequent license fees, are discounted based upon the number of L1/L3 Licenses.  Each L1/L3 License includes an On-Line Account.

L1/L3 Licenses are defined as:
L1: Dedicated User License
L3: Group User 3-Pack License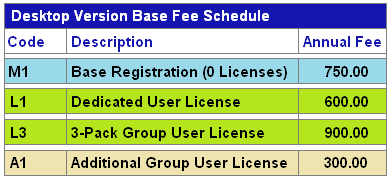 Please refer to our Fee Calculators for specific combinations of licenses.
---

For clients preferring to use the On-Line only version, we use a straight per User ID fee schedule.

The initial user is $650 and each subsequent user is discounted by 7%, to $400 per User at the eigth and above user.

Cumulative totals are shown in the table below.


Online Only Fee + Disc Schedule
UIDs
User Fee
Annual Fee
1st
650.00
650.00
2nd
605.00
1,255.00
3rd
563.00
1,818.00
4th
524.00
2,342.00
5th
487.00
2,829.00
6th
453.00
3,282.00
7th
421.00
3,703.00
8th
400.00
4,103.00
>8
400.00 each additional
---
Product Codes
Product Codes and Definitions
Code
Usage
Description
M1
Registration (Desktop Licenses)
The M1 Registration fee is the base annual service fee without any license activations. The M1 fee is per client organization.
L1
Dedicated User
Dedicated users are normal software users. They can not be 'de-activated' by other users.
L3
3-Pack Group User
Supports three initial desktop licenses as a 'Group'.
Only one member of the group may be the 'active' member.
A user in the Group will 'de-activate' other members when starting RISC Analysis.
A persistent internet connection is required for Group users.
There is no limit to the number of Groups per client, and no limit to the number of users in a Group.
A1
Additional Group User
If more than 3 users are required in a group, additional group users may be ordered via the A1 Additional User.
S1
Online-Only UID
Each On-Line account allows single user access.
Multiple concurrent log-ins per UID are not supported.
Please Note: On-Line Only accounts are issued to Named Users.

Each Stand-Alone On-Line Only Account may be shared by up to two named users.

In order to prevent abuse, it is important that clients keep us informed of changes to named users.

Account log-in ids or passwords may not be shared with any third party or anyone outside of your organization.